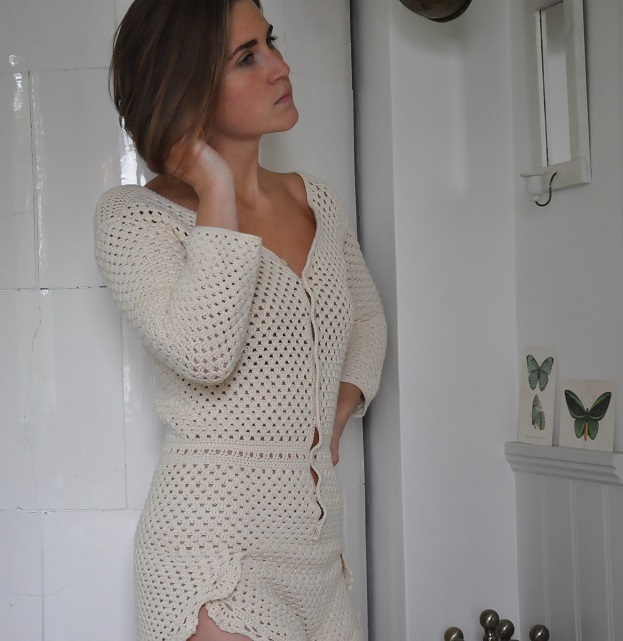 Description
This cosy yet delicate handmade crochet playsuit features a cinched waist and overlapping scalloped detailing around the hem. Takes approx 3 weeks to make
Product Details
710 EUR
Seamless

Unlined

Button up

Composition: 100% Organic Cotton

Dry Clean

Handmade in Sweden

Model is 164cm | Bust 83cm | Waist 61cm | Hip 89cm | Wears a size S
Sizing
All Tanja's Crochet garments are handmade and woven with either a 100% Polyamide yarn, an Organic Cotton yarn or a Cotton and Polyamide blend. Polyamide yarn is a high technology yarn that is comfortable and effortlessly chic, has a great memory and confers a spectacular malleability and body contouring. In other words, it hugs the body perfectly.
We are always glad to help with sizing enquires or any other doubt you may have about our styles.
Moreover, if you would like to order a tailored piece, please send an email to: contact@tanjascrochet.com
Technical info
This is the union of ancestral crochet technique with modern ready-to-wear designs. Tanja promotes individual uniqueness, sustainability, and craftsmanship and her clothes provide both comfort and a soft touch in a spectacular textile structure.
Crochet is a manual technique which is composed of three elements, hands, hook and yarn. The construction of crochet is made stitch by stitch. Depending on the piece the weaving process can begin either at the neckline, waist or even sideways. Each style is different but most of them are seamless.
Having each item made by one designer truly ensures that the level of care and expertise is always maintained, and this shows through in all of Tanja's creations.